Are you looking for an easy and efficient way to build a professional website? Look no further than Jimdo! With its user-friendly platform and customizable templates, Jimdo makes creating your dream website a breeze. In this blog post, we'll walk you through the basics of getting started with Jimdo and show you how to customize your site to make it truly unique. Read on to discover why Jimdo is the ultimate solution for building a professional website.
Jimdo is a website builder that allows individuals and businesses to create their own professional websites. It was founded in 2007 in Germany and has since grown to become one of the most popular website builders available.
One of the key features of Jimdo is its user-friendly platform. Even if you have no prior experience with website design, you can easily create a beautiful site using Jimdo's drag-and-drop interface.
Another great thing about Jimdo is its customizable templates. Whether you're creating a personal blog or an ecommerce store, there are plenty of templates to choose from that will help your site stand out.
Jimdo also offers various pricing plans, including a free plan for those who just want to get started without committing any money up front. However, if you want access to more advanced features (like analytics and SEO tools), it may be worth upgrading to one of the paid plans.
Jimdo is an excellent choice for anyone looking for an easy-to-use website builder that still offers plenty of customization options.
Getting started with Jimdo is an easy process that anyone can do. The first thing you need to do is visit the Jimdo official site and sign up for a free account. Once you have signed up, you will be taken to the dashboard where you can begin building your website.
The next step is choosing a template from the many options available on Jimdo. You should choose one that suits your needs and style preferences. After selecting a template, it's time to start customizing it by adding pages, sections, images and text as well as tweaking its design.
Jimdo has an intuitive drag-and-drop editor which makes editing easy even if you don't have any coding knowledge. Simply click on different elements of your website and make changes using the editor tools on offer.
Don't forget to add features like contact forms, social media buttons or e-commerce functionalities depending on what kind of site you want to create. Set up your domain name or connect an existing one if applicable before publishing your fresh new website online!
Getting started with Jimdo takes just some simple clicks but creates endless possibilities for businesses and individuals alike!
Customizing your website is a crucial step in making it stand out and reflect your brand's personality. With Jimdo, you can easily customize every aspect of your website to match your unique style.
Firstly, choose a template that suits the look and feel of what you want to convey. From there, select color schemes, fonts, and layouts to create cohesion across all pages. Using widgets such as galleries or contact forms will also enhance user experience.
Adding high-quality images relevant to your business is essential for creating an appealing visual display on the site. You can add custom graphics or upload photos from stock image websites like Pexels or Unsplash.
Next, optimize the content on each page by using keywords related to what you do or offer. This helps improve search engine rankings and drives more traffic towards your site. Additionally, ensure that all images are compressed for faster load times which reduces bounce rates.
Make sure that all elements work together cohesively by testing them across various devices such as desktops or mobile devices before publishing them live.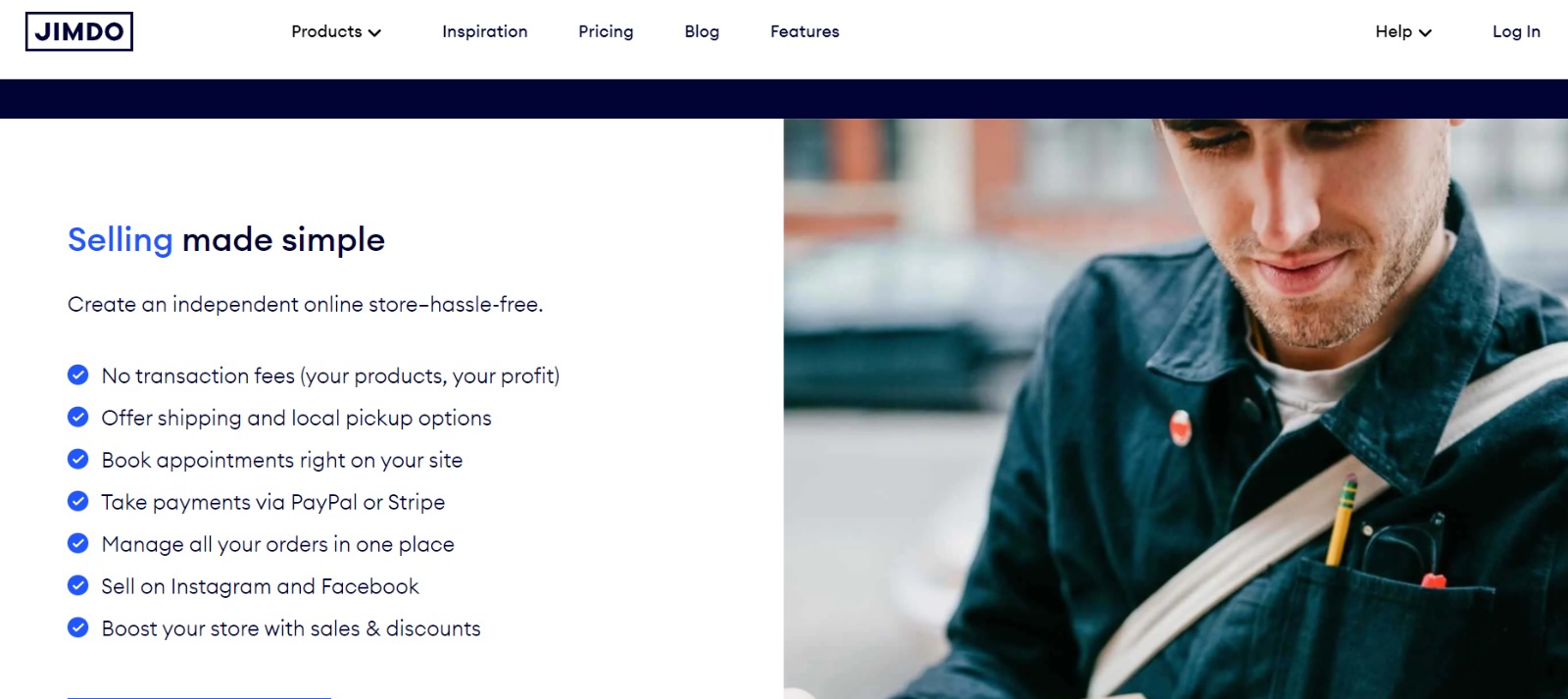 Using Jimdo as your website builder has numerous benefits that can help you achieve your online goals. First and foremost, Jimdo is very user-friendly and easy to use, even for beginners who have no technical experience in building websites.
Another benefit of using Jimdo is the wide range of templates available that cater to different industries and niches. These templates are customizable, allowing you to personalize your website according to your brand identity.
Jimdo also offers excellent customer support via email and live chat options, ensuring that any issues or questions you may encounter are addressed promptly by their team.
If you're looking to improve your search engine rankings, Jimdo provides built-in SEO tools such as meta descriptions and tags which can help optimize your content for search engines like Google.
Jimdo's pricing plans are budget-friendly with affordable rates for small businesses and startups alike. With all these benefits combined, it's no wonder why many users consider Jimdo their ultimate solution for creating a professional website.
Jimdo is a fantastic solution for building professional websites without needing any prior coding or design experience. With its user-friendly interface and customizable templates, anyone can create an attractive and functional website in no time at all.
Additionally, the benefits of using Jimdo extend beyond just the ease-of-use. The platform offers reliable hosting, fast loading times, SEO optimization tools and mobile responsiveness to ensure that your website looks great on any device.
So whether you're an entrepreneur looking to start a business online or simply eager to showcase your work or hobby with the world – Jimdo has got you covered! Give it a try today and see how easy it is to build a stunning website that perfectly represents you or your brand.